A homemade patio cleaning solution often offers stunning results! Along with a bit of elbow grease, everyday cleaners can remove thick dirt, mud, dust, and other debris easily. Check out 8 of those cleaning solutions here so you can ensure a stunning space outside your home year-round!
8 Patio Cleaning Solutions to Try
When trying any of these patio cleaning solutions, remember to protect yourself against injury. Consider wearing safety goggles, gloves, and sunscreen when needed. This will ensure you don't need to rest and get healthy again before enjoying your beautifully clean patio!
1. Try an outdoor broom
An outdoor broom with stiff bristles is excellent for cleaning patio pavers. Those stiff bristles make quick work of loosening dust and dirt from paver surfaces. After a dry scrubbing, use a garden hose to wash away that debris. You might be surprised at the results!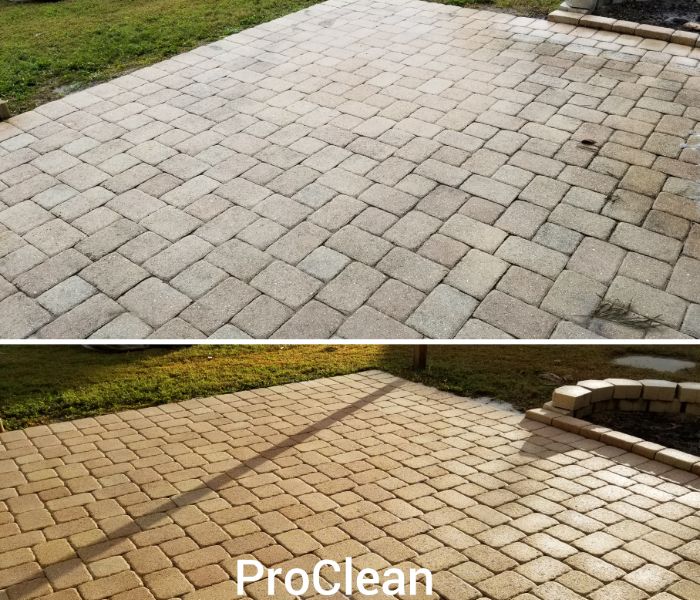 2. Mix dishwashing liquid and water
To clean especially dirty patio pavers, use a squirt of dishwashing liquid in a gallon of water. Mix this solution and then pour it over the pavers. Use your outdoor brush to scrub the paver surfaces. Then, rinse with a hose and repeat this process as needed.
3. Try bleach and water
Bleach is a great way to address mold, moss, mildew, and algae. Mix a cup of bleach in a gallon of water and add this to a garden hose attachment. Spray the affected areas thoroughly and let the solution sit for 20 minutes.
For thick mold and other debris, use your outdoor scrub brush before rinsing the bleach away. Ensure you rinse the bleach thoroughly so it doesn't dry the pavers. Repeat this as needed to remove tough, built-up debris.
4. Degreasers attack oily residues
For oily residues such as motor oil or cooking grease, check your local home improvement store for a degreaser. Use this product as directed. Also, heat water on the stovetop and use that for rinsing, as hot water helps dissolve grease and oil.
5. Try WD-40 for rust stains
Spray lubricants such as WD-40 can address rust stains on patio pavers. Use this product sparingly as a little goes a long way! Also, let it sit for several minutes and then use your scrub brush to scrape away rust before rinsing the area.
6. Use white vinegar
White vinegar helps kill mold, moss, and algae as well as weeds! Also, vinegar is safer for your patio pavers and surrounding lawn and landscaping than bleach. Use white vinegar on larger patios and if you need to remove growth between stones.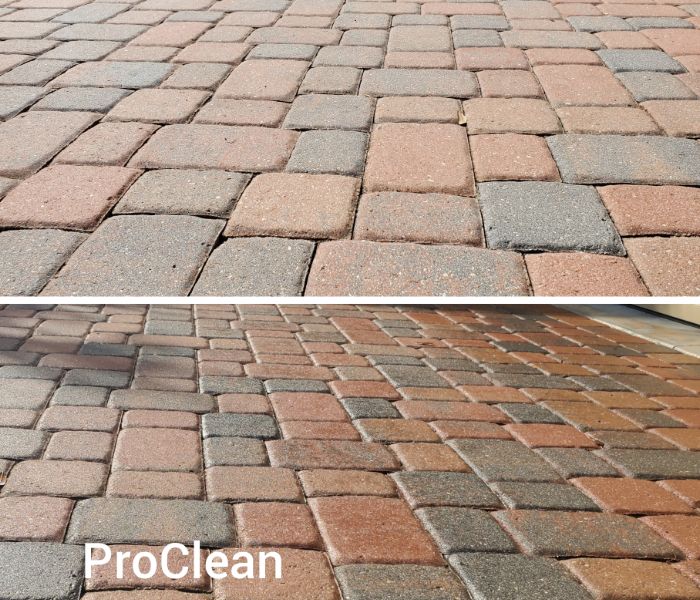 7. Use a baking soda paste
Baking soda is a safe, natural cleaner that tackles a number of stains and debris. For tough spots, mix baking soda and water until it forms a paste. Rub this paste into the spot with your outdoor brush. Let it sit for at least 20 minutes, to absorb staining materials. Rinse thoroughly.
8. Dishwashing liquid, baking soda, and peroxide
For a thorough clean, mix a good squirt of dishwashing liquid, several sprinkles of baking soda, and a quarter cup peroxide in a gallon of water. The soap loosens dirt while baking soda and peroxide bleach away stains.
Pour this mixture onto the pavers and brush it into their surface. Let the mixture sit for several minutes and then scrub thoroughly before you rinse it away. Repeat as needed.
What Can I Use to Clean My Outdoor Patio?
Some natural cleansers you can use for your outdoor patio include:
Baking soda
Dishwashing soap
White vinegar
Bleach
Peroxide
Store-bought cleaners meant for pavers and concrete
Also, remember that an outdoor brush designed for scrubbing pavers helps ensure a thorough clean. Lastly, proper rinsing is vital for ensuring a thorough clean.
Can I Pressure Wash Patio Pavers?
Homeowners should avoid DIY power washing around their property and especially on patio pavers! Using too much pressure can dislodge those pavers easily. Also, improper power washing techniques often create messy splatter.
On the other hand, professional power washing can mean a stunning, pristine space. Professionals know how to use the right cleansers and tools for a safe clean. Trained pros also get to ground-in dirt without damaging pavers, concrete, and other materials.
ProClean Pressure Washing Lakewood Ranch is proud to share with you these 8 homemade patio cleaning solutions. Hopefully one has worked for your property! If not, call our Lakewood Ranch pressure washing contractors. We offer FREE estimates and safe, thorough soft wash systems. For your convenient appointment, use our contact form and let us call you back right away.