Do you need to clean oil stains on a driveway at your home? If so, don't rent power washing equipment just yet! First, pressure washing is best left to professionals to ensure a safe yet thorough job. Second, some homemade solutions might tackle those stains effectively and more affordably!
Check out seven solutions to clean oil stains on a driveway. Stay safe when cleaning; wear sturdy shoes, household gloves, and eye protection when needed. Also, it keeps kids and pets away from any cleaning solution, even natural ones! Lastly, don't hesitate to call a pro for driveway pressure washing if these tips don't work for your property.
Removing Oil Stains From Your Driveway
The best homemade solutions to try for removing oil stains on your driveway include:
Cat litter
Baking soda
Dish soap
Oven cleaner
Laundry detergent
Coca-Cola soda
WD-40
1. Start with absorbent cat litter
Absorbent litter helps pull grease, oil, and other residues from driveways and other surfaces. With this in mind, pour a generous amount of litter onto your driveway's stain. Then, gently push the litter into the stain to help it absorb more effectively.
Let the litter sit on the stain for 30 minutes before sweeping it away. You can also rinse the area generously to remove excess litter and as much residual grease as possible.
2. Try baking soda to remove oil stains on a driveway
Baking soda helps dissolve grease and oil stains and provides some texture for scrubbing. To use this solution, sprinkle baking soda on the oil spot generously. Next, wait about 30 minutes for it to penetrate and absorb as much oil as possible. Use an outdoor brush to scrub the stain, then rinse the soda.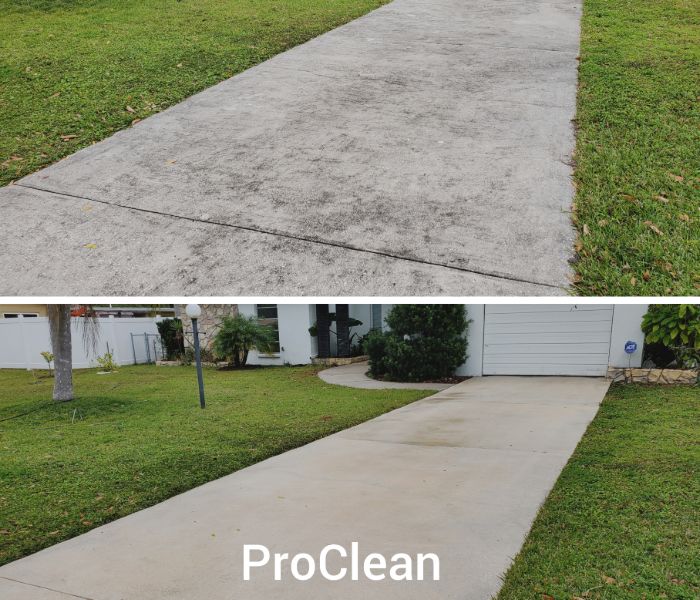 3. Use household dish soap
Many household dish soaps like Dawn dish soap are designed to dissolve thick grease and oil from pots and pans. In turn, they make great cleaners for outdoor stains. Dissolve a generous squirt in a gallon of warm water to use dish soap. Use your outdoor brush to scrub this mixture onto the stain.
Rinse the stain generously and then repeat this process as often as needed. You can also use a higher concentration of dish soap if needed. Also, increase the water temperature, as hot water helps dissolve grease and oil.
4. Try oven cleaner for oil and other automotive stains
Oven cleaner, like dish soap, is designed to break down oily and greasy residues. Also, oven cleaner has acidic properties, cutting through thick, caked-on debris. In turn, it's often effective at cleaning driveway stains.
To try oven cleaner on your property's driveway stains, try an off-brand or lower-quality choice first. Cheaper oven cleaners are often less acidic than upper-quality choices. In turn, they're less likely to damage driveway asphalt or concrete. If that brand doesn't work, invest in a higher-quality brand and try again.
5. Laundry soap can clean an oil stain on a driveway
Powdered laundry soap works on a variety of stains on both your clothes and driveway! Try sprinkling some over your driveway stain and using a wire brush to rub it in. Next, add a little water to get some bubbles and to help lift the oil. Lastly, rinse away the mess!
6. Use Coke to remove oily stains on concrete or asphalt
Coke is an excellent tool for eliminating many household stains, including oil from driveways. However, pour the Coca-Cola on the stain and let it sit overnight. The liquid needs that much time to break down the oils and greases. The following day, try rinsing away the stain and then repeat the results if required.
7. WD-40 can help clean away oily stains and residues
WD-40 is used to break down various substances, including grease and oil. You can try spraying some WD-40 on your driveway's oily stain and note if this helps dissolve the material. Use hot water and a wire brush to lift the grease before rinsing it away.
How do I remove old oil stains from my driveway?
To remove old, set-in stains, start with kitty litter to absorb residual grease. Then, make a paste with baking soda and water and scrub that paste into the oil. Next, add a squirt of oil-cutting dish soap to the paste and clean some more. Lastly, rinse with hot water and repeat this process as often as needed.
If this doesn't work to remove old stains, it's probably time to call a professional power-washing contractor. Specialty detergents they use can dissolve more aged residues without harming concrete or asphalt. Also, a professional pressure-washing contractor can scrub older stains without pulling up aggregate or etching soft surfaces.
When should you schedule professional driveway pressure washing?
Not all driveway stains require scrubbing from a professional. The homemade cleaners mentioned above often work effectively on driveway stains. Also, don't underestimate the value of some "elbow grease." Use an outdoor scrub brush on the stain and give it a vigorous cleaning for the best results.
However, if you've tried all these tips and find that the stain doesn't want to go away, it's time to call a pro. Remember that professional power washing contractors often have access to cleansers not sold in home improvement stores. Additionally, they might use commercial-grade scrubbers on tough stains for effective cleaning.
Above all, professional power washing technicians ensure the safe cleaning of concrete driveway and other surfaces. For example, they know how to angle the washing wand to avoid damage. They might also know when a stain is too old to clean! In that case, they might recommend painting over the concrete or replacing the material as needed.
ProClean Pressure Washing Lakewood Ranch is happy to help answer the question of how to clean oil stains on a driveway. Hopefully, you've found this helpful information for your property! Call our Lakewood Ranch pressure washing contractors if you've tried these homemade remedies and find that your driveway still needs cleaning. We offer free quotes and guarantee customer satisfaction with every clean. Check out our long history of stellar, five-star reviews from past clients! Call our crew today to find out more or get your property started.